Retro Ad of the Week: The Beverly Hills Hotel, 1989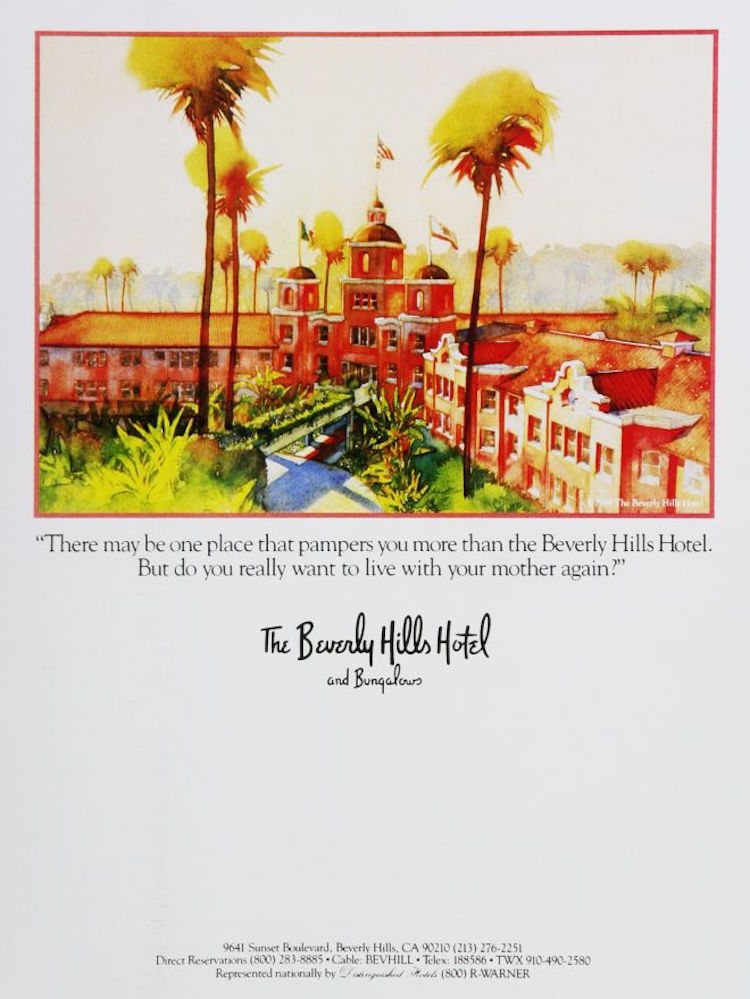 Movie stars, politicians, rock stars. The distinctive pink-and-green color scheme. A pool surrounded by the classic pinstripe lounge chairs. The Polo Lounge, fine dining, and of course, secluded bungalows for high-class celebrities looking for privacy. For years, the Beverly Hills Hotel has been equated with the rich and famous residents who inhabit it. And the decor still holds the old-fashioned glamour we'd expect of the '30s and '40s.
Finding that stories of celebrities like Elizabeth Taylor, Frank Sinatra, and Marilyn Monroe hanging around the hotel weren't enough to draw guests in the 80s, the hotel turned to tactics like this luxury print ad. Let's take a closer look at the copy:
There may be one place that pampers you more than the Beverly Hills Hotel. But do you really want to live with your mother again?
The interesting part about this ad is that — for the most part — it looks like an ad that could run today. The painting of the hotel is timeless enough to run in any decade, as are the fonts. And the copy about moving back in with your parents is humorous, but drives home the key message: at no other hotel will you find more luxury than at Beverly Hills.
FUN FACT: The hotel was founded in 1912 when Hollywood itself barely existed; the city of Beverly Hills was incorporated afterward in 1914. The city began to grow only after they broke ground on the $300,000 hotel (SOURCE: BeverlyHills.org).