Retro Ad of the Week: Universal Studios, 1982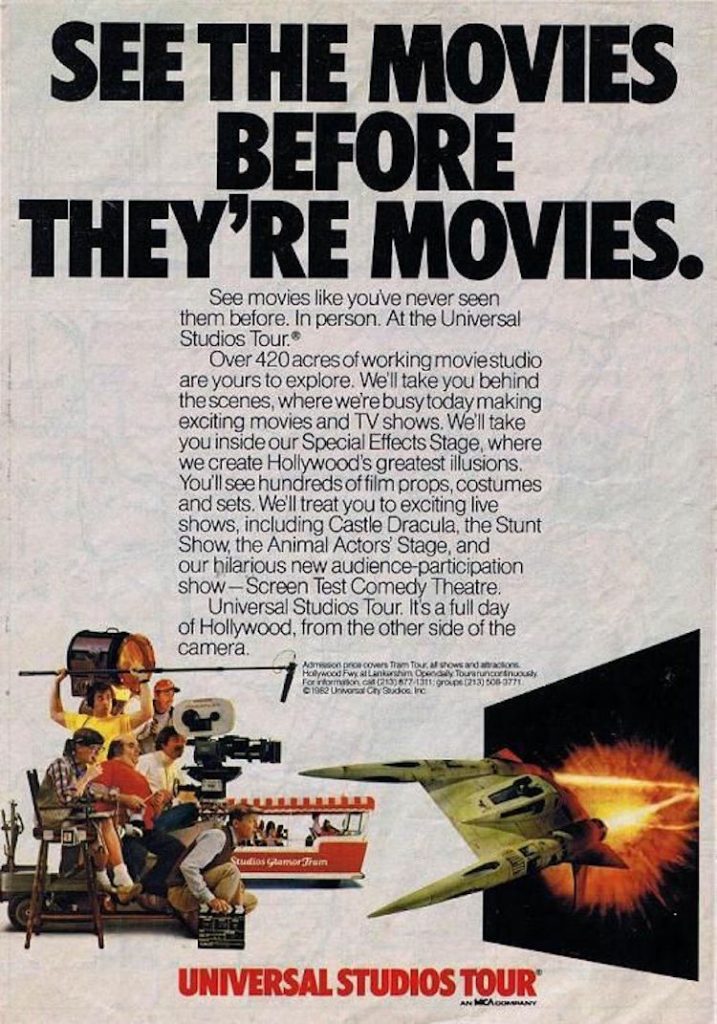 This retro Universal Studios ad wants you to see movies like you've never seen them before. And in 1982, you still could.
In the early 1980s, movies were a BIG DEAL. It's not that folks don't enjoy movies now, but let's face it. We've got HDTVs, thousands of cable channels, surround sound systems, etc. We walk around with the option to view videos anytime, anywhere, on the tiny computers we all keep in our pockets. We've been groomed to expect a certain caliber of CGI. And anyone can be an Internet star from the comfort of their own home. I'm not saying we're jaded. But perhaps we take movie-making magic a tad bit for granted.
Not so in 1982. Fresh off the 1970's decade of blockbusters, creative license, special effects, and brand-new home viewing options (think: Betamax), the movie industry was enjoying a renaissance. This retro Universal Studios ad knew it, hence the invitation to "see the movies before they were movies."
Here's the full text:
See movies like you've never seen them before. Over 420 acres of working movie studio are yours to explore. We'll take you behind the scenes, where we're busy today making exciting movies and TV shows. We'll take you inside our Special Effects Stage, where we create Hollywood's greatest illusions. You'll see hundreds of film props, costumes, and sets. We'll treat you to exciting live shows, including Castle Dracula, the Stunt Show, the Animal Actor's Stage, and our hilarious new audience-participation show – Screen Test Comedy Theatre.

Universal Studios Tour. It's a full day of Hollywood, from the other side of the camera.
FUN FACT: Universal Studios Hollywood was the first movie studio to offer tours, and has been since 1915. Admission to watch silent movie production only cost five cents and included a box lunch to boot. (Source: Wikipedia)