Retro Ad of the Week: Vintage Wurlitzer Music, 1947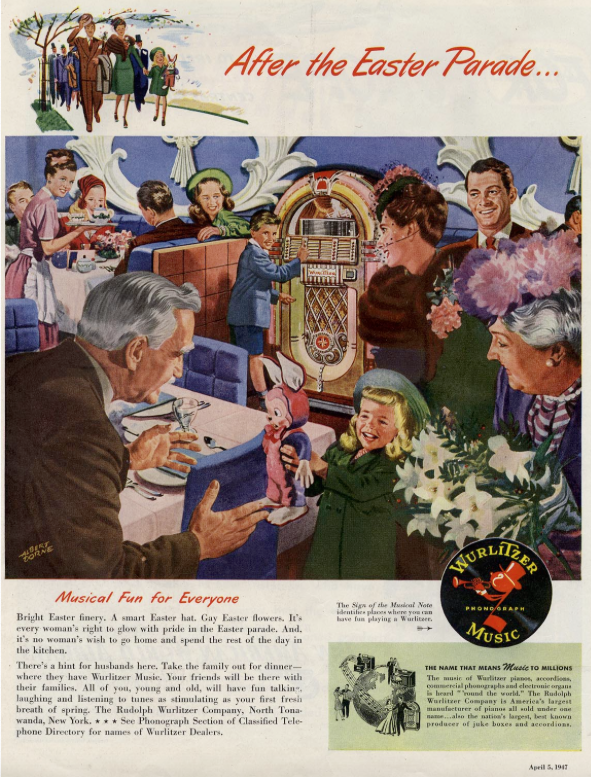 Wurlitzer Music, the country's largest producer of jukeboxes and accordions, appealed to husbands with this retro Easter advertisement. Why make your wife slave in the kitchen all day, when the family could go out to eat? This vintage Wurlitzer ad promises great music – just look at the shared glance between the little boy and his mother. It also shows that all your friends and their families will be there too: how could you miss out? While it's not overly realistic to see the entire neighborhood at the local soda shop on Easter Sunday, this ad paints a great image. Multi-generational fun, and enjoying the things that really matter.
Take a closer look at the copy:
Musical Fun for Everyone
Bright Easter finery. A smart Easter hat. Gay Easter flowers. It's every woman's right to glow with pride in the Easter parade. And, it's no woman's wish to go home and spend the rest of the day in the kitchen.
There's a hint for husbands here. Take the family out for dinner – where they have Wurlitzer Music. Your friends will be there with their families. All of you, young and old, will have fun talkin', laughing and listing to tunes as stimulating as your first fresh breath of spring. The Rudolph Wurlitzer Company, North Tonawanda, New York.
FUN FACT: The Easter Parade mentioned here is an American cultural event. Made famous in New York City, it's an informal procession through the street in your very best Easter wear.  In 1947, the year this Wurlitzer ad was published, over a million people flocked to Fifth Avenue to show off their finest Sunday dress. [Source: Wikipedia]