Retro Ad Of The Week: Hilton Hotels, 1975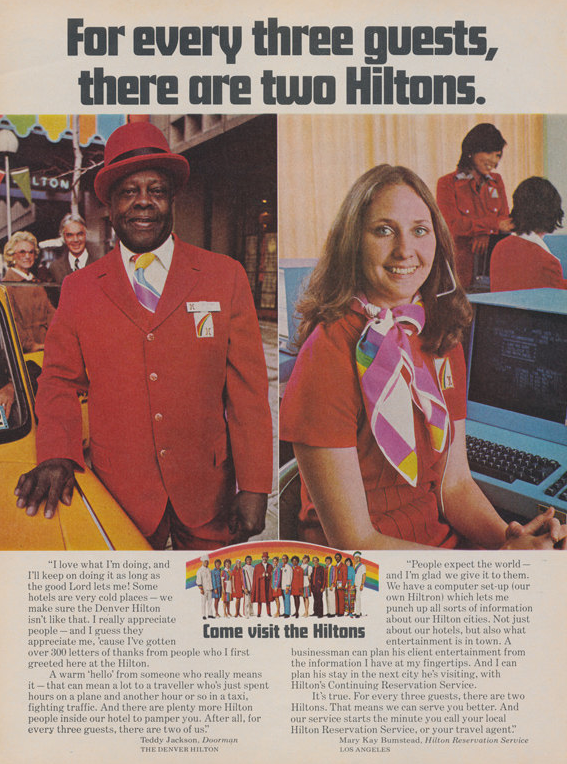 Retro hotel advertisements of the past were usually pretty predictable.  Illustrations of people enjoying the amenities of their rooms. Pictures of the on-site natural beauty (check out this Sheraton-Waikiki retro ad). This simple structure was product focused, emphasizing the hotel itself. Bucking the trend, this retro ad takes an alternate route – Hilton Hotels focused instead on the quality of service they provide. By adding photos of two real employees, Teddy and Mary Kay, along their personal testimonials, the company gets a personal touch.
The Hilton Experience
Teddy talks about how he takes pride in giving meaningful greetings in welcoming weary travelers. Potential guests can rest assured Hilton will take care of them from the start. Mary Kay lets us know that Hilton Hotels are up-to-date with the latest computer technology (the "Hiltron"), ensuring your experience is cutting edge.  And the headline, "For every three guests, there are two Hiltons," shows travelers they will be of during their stay. Added bonus points?  Well, just look at those outfits… so seventies.
FUN FACT: This retro ad was pretty progressive for its time! The seventies brought on an effort by marketing executives to portray more diversity within their advertisements. In 1967, African Americans only appeared in 5% of TV ads, but by 1976, this number had increased to 13%. [Source: Ad Age]