Retro Ad of the Week: Greyhound, 1946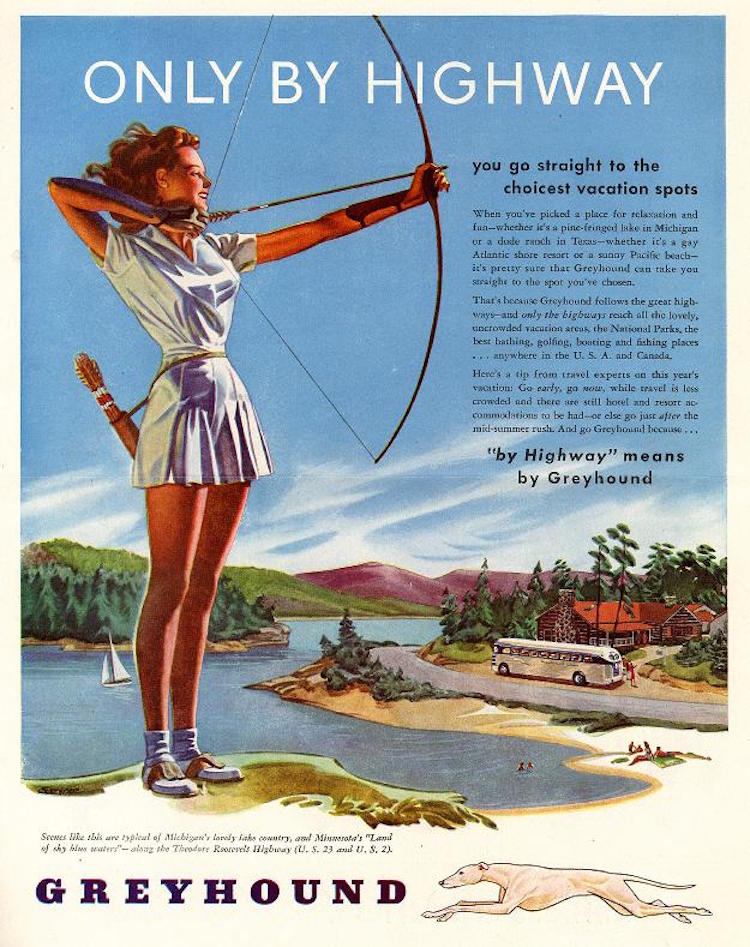 Back in 1946, commercial aviation could take you to faraway cities (albeit a limited number). But Greyhound could take you anywhere. Or at least that's what they claim in the copy:
ONLY BY HIGHWAY you go straight to the choicest vacation spots

When you've picked a place for relaxation and fun – whether it's a pine-fringed lake in Michigan or a dude ranch in Texas. Whether it's a gay Atlantic shore resort or a sunny Pacific beach – it's pretty sure that Greyhound can take you straight to the spot you've chosen. That's because Greyhound follows the great highways – and only the highways reach all the lovely, uncrowded vacation areas, the National Parks, the best bathing, golfing, boating and fishing places… anywhere in the U.S.A. and Canada.
It's an interesting travel brand positioning for the time. The airlines (which were experiencing a bit of trouble in 1946) may have owned the skies, but Greyhound owned the highways. And all the uncrowded, interesting places along the way.
FUN FACT:
While Greyhound was popular beforehand, it became a cultural icon in 1934. That's when it appeared in the movie: It Happened One Night, starring Clark Gable. Greyhound executives attributed a rise in public interest in bus travel to the movie's big star: the Greyhound bus. (Source: Mental Floss)