The Magic of Universal Studios' Retargeting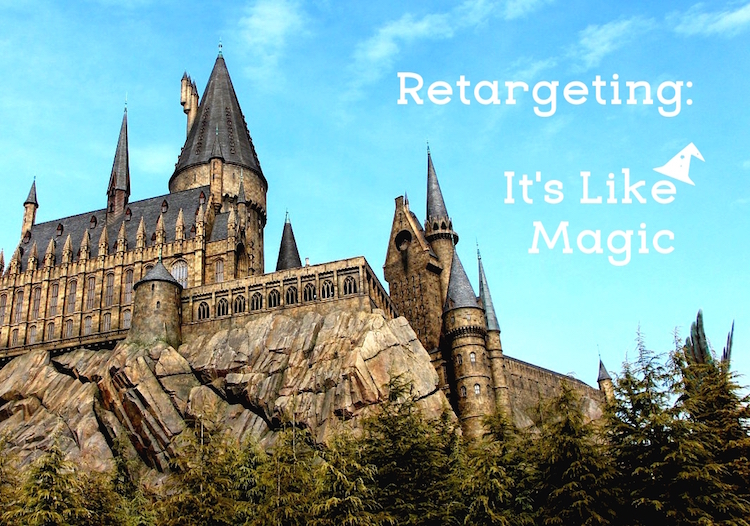 As a mom who plans ALL of the family vacations, I look for experiences that can appeal to both my 8-year-old and my husband (who often has the same vacation preferences). I also look for value and a hotel with space for me to relax by myself for at least one hour of the trip. Universal Orlando seemed to have that magical combination. And they were very good at keeping their brand at top of mind after I visited their website – with retargeting.
If you operate a theme park, you may already be familiar with the benefits of retargeting ads. If not, here's how they work:
Someone visits your site.
You drop a cookie on their computer.
You can now deliver ads to people who are interested in visiting but may not have converted.
They are driven back to your website to convert, not to browse (more on that later).
What I liked about Universal's retargeting campaign is that they delivered messages with a variety of visuals. I imagine they were testing to see what would work. Because as I clicked more on the Harry Potter visuals than the Simpsons or the Hulk, the Potter ads began to increase in frequency. They showed up when I read political articles online. They showed up when I looked up words on Thesaurus.com. Even on my Facebook page. Wherever I was, there was Universal, beckoning me to book my trip.
Here Are a Few Examples of Retargeted Ads That Universal Delivered to Me: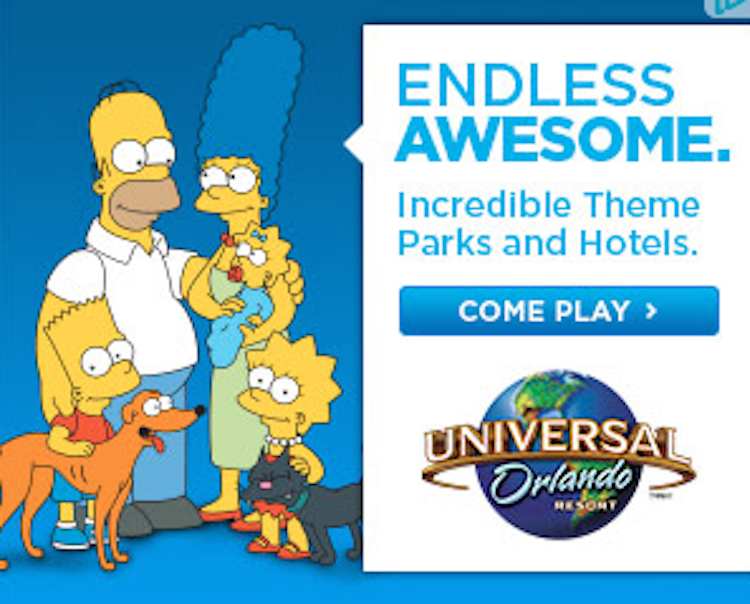 While the Simpsons message was enticing with its "Come Play" Call to Action button, what drove me to book were the low prices. Even if I did book via AAA. But that's the point. Universal Studios uses retargeting to hook you in multiple ways at different points in your buyer journey. And it works.
Theme parks – especially smaller ones who can benefit even more from a streamlined approach online – would be remiss to exclude retargeting from their advertising arsenal. The opportunities to reach potential visitors in the right mindset abound.
Using Retargeting Ads to Fine-Tune Your Campaign
As mentioned earlier, one of the most important things Universal did was test different retargeting messages to see what resonated with me (the visitor). Unlike traditional advertising, retargeting allows you to test messages and visuals and see what works. Does one visual outperform the other? Does one message drive more clicks or purchases? By looking at what works, you can use the data to build a stronger campaign over time.
Important: Drive Your Audience to the Right Place
In addition to testing, it's important that retargeting is done correctly. For instance, you don't want to deliver someone who's clicked on an ad about booking to your homepage. You want to deliver them to a landing page designed just for that particular ad, like this one. The goal is to drive the prospective visitor further and further into the funnel until they either buy tickets or book a vacation.
In the end, retargeting ads for theme parks can boost both awareness and conversion significantly. You just need to have a plan in place to do it right and get the most out of your marketing budget. And with that piece of advice, I'm off to see Harry Potter (and work on my tan for an hour).